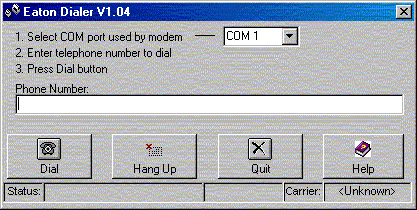 The Eaton Dialer program allows a computer running Windows 95/98/NT/2000 to dial a remote modem and keep that phone line active, while at the same time allowing another program on the local computer to access the phone line. Since the phone line is "open", that program begins communicating with the device as if it were local.
This permits programs that don't support remote dial-out capability to connect to remote devices over dial up telephone lines.
Select the link at the right to download the zipped install files to your computer.
For more information, refer to the detailed help files that are installed during the program installation. These help files include additional information on the Eaton / Cutler-Hammer PowerPort program.
PowerPort is a free program that permits a user to connect to an Eaton/Cutler-Hammer IQ or Digitrip product and:
Save IQ/Digitrip device setpoint files to your computer

Restore saved setpoint files back to the IQ or Digitrip device

See real-time values

Operate a remote device, trip/close/reset (requires password)